Rolex
Cosmograph Daytona
Oyster, 40 mm, white gold
Price: $34,850
All prices are Rolex's suggested retail price before applicable taxes. Prices can be modified at any time without notice.
Model availability
Reference
116519LN
Model Case
Oyster, 40 mm, white gold
Bezel
Black monobloc Cerachrom bezel in ceramic with molded tachymetric scale
Water-Resistance
Waterproof to 100 meters / 330 feet
Movement
Perpetual, mechanical chronograph, self-winding
Calibre
4130, Manufacture Rolex
Power Reserve
Approximately 72 hours
Bracelet
Oysterflex
Dial
Meteorite and black
Certification
Superlative Chronometer (COSC + Rolex certification after casing)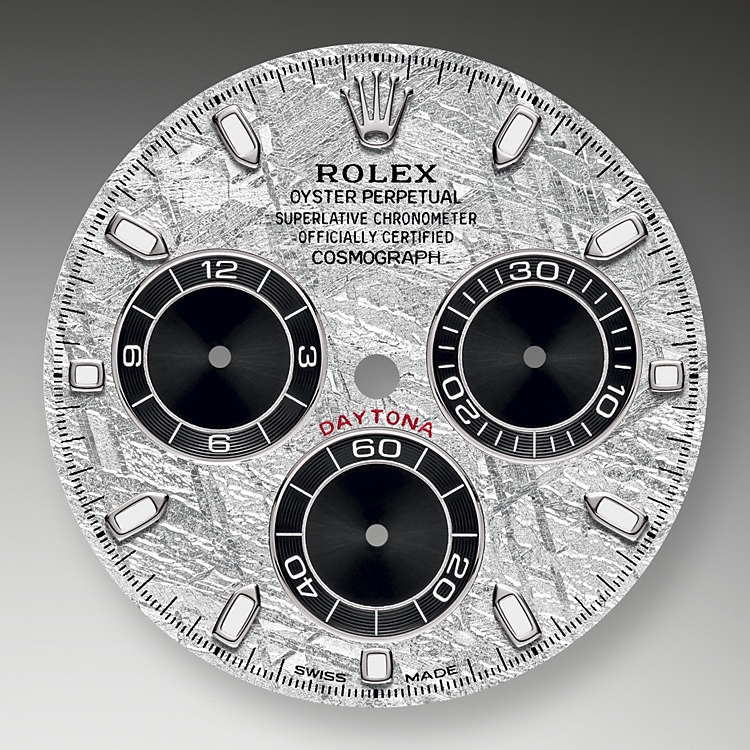 Meteorite and black dial
Meteorite comes from the heart of an asteroid or possibly even a planet that has exploded, propelling material across the Solar System until chance brings it into our planet's orbit and gravity pulls it to Earth.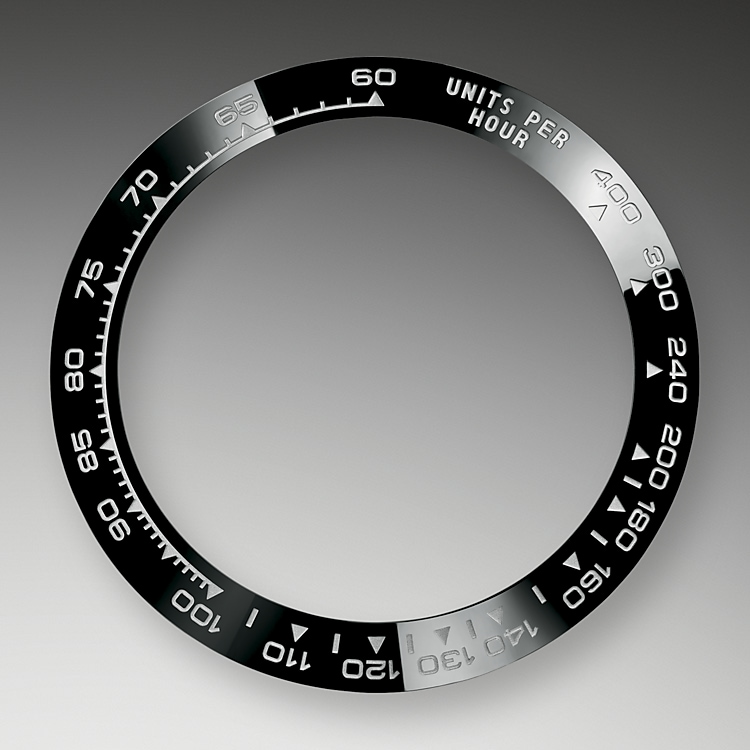 The tachymetric scale
A key part of the model's identity is the bezel moulded with a tachymetric scale for measuring average speeds of up to 400 miles or kilometres per hour. Blending of high technology with sleek aesthetics, the black bezel is reminiscent of the 1965 model that was fitted with a black Plexiglas bezel insert.The monobloc Cerachrom bezel in high-tech ceramic offers a number of advantages: it is corrosion resistant, virtually scratchproof and the color is unaffected by UV rays. This extremely durable bezel also offers an exceptionally legible tachymetric scale, thanks to the deposition of a thin layer of platinum in the numerals and graduation via a PVD (Physical vapor Deposition) process. The monobloc Cerachrom bezel is made in a single piece and holds the crystal firmly in place on the middle case, ensuring waterproofness.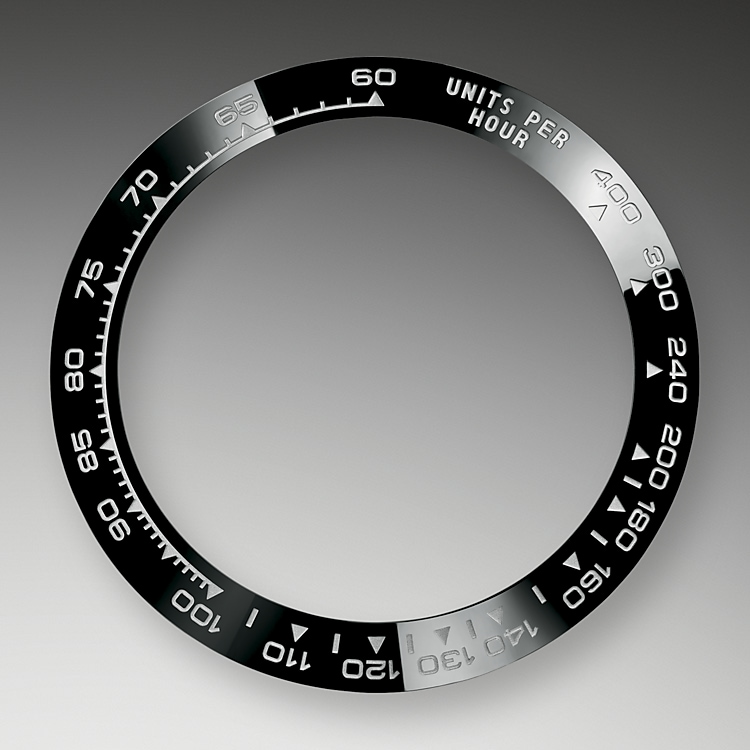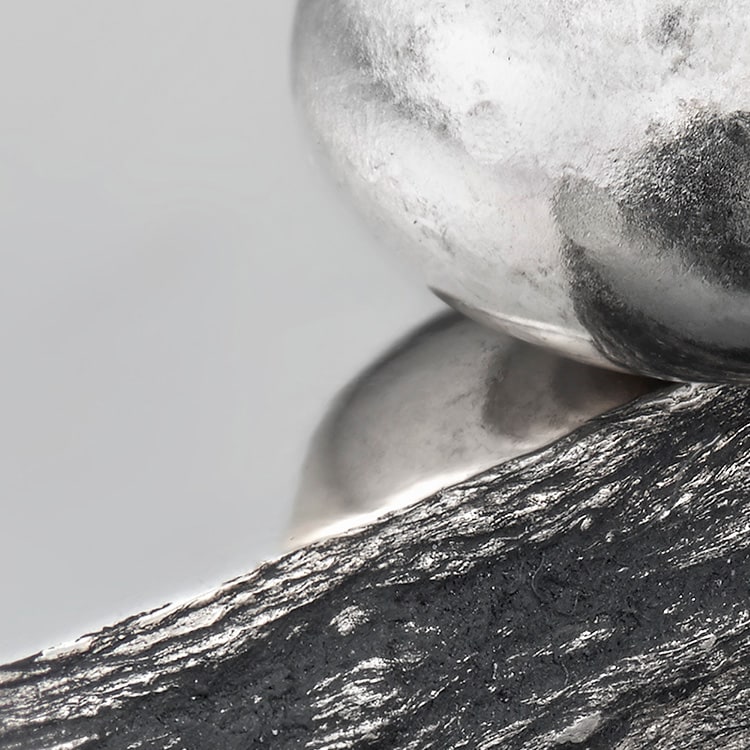 18 ct white gold
By operating its own exclusive foundry, Rolex has the unrivaled ability to cast the highest quality 18 ct gold alloys. According to the proportion of silver, copper, platinum or palladium added, different types of 18 ct gold are obtained: yellow, pink or white. They are made with only the purest metals and meticulously inspected in an in-house laboratory with state-of-the-art equipment, before the gold is formed and shaped with the same painstaking attention to quality. Rolex's commitment to excellence begins at the source.
Model Availability
All Rolex watches are assembled by hand with the utmost care to ensure exceptional quality. Such high standards naturally restrict Rolex production capacity and, at times, the demand for Rolex watches outpaces this capacity.
Therefore, the availability of certain models may be limited. New Rolex watches are exclu-sively sold by Official Rolex Retailers, who receive regular deliveries and independently manage the allocation and sales of watches to customers.
Bruce G. Weber Diamond Cellar is proud to be part of the worldwide network of Official Rolex Retailers and can provide information on the availability of Rolex watches.
How to Set Your Cosmograph Daytona
Synonymous with excellence and reliability, Rolex watches are designed for everyday wear, and depending on the model, perfectly suited for a wide range of sports and other activities. Built to last, these timepieces are characterized by their distinctive and timeless aesthetics. The Oyster Perpetual Cosmograph Daytona is designed for those with a passion for driving and speed. Learn more about its features and how to set the time and use the chronograph functions by watching the video.
Launched in 1963, the Oyster Perpetual Cosmograph Daytona was designed to meet the needs of professional racing drivers. This year, Rolex presents exclusive versions of its Cosmograph Daytona, the benchmark for those with a passion for driving and speed. They feature a dial made from metallic meteorite – a rare natural material from outer space – with black chronograph counters at 3, 6 and 9 o'clock.
CONTACT US
Please specify your preferred mode of contact and we will respond as quickly as possible.
Thank you for your interest in Rolex watches. Your message has been successfully sent. One of our representatives will be reviewing your request and responding as soon as possible.